Smith Highwater
---
Select options below for pricing;
Overseas Orders Tax Free Price: $0.00
---
---
Product Description
•••••
ChromaPop+ NXT/Trivew lenses
Anti-reflective and hydroleophobic lens coatings
Smith Retainer integration compatible (leash included)
Large fit / large coverage
8 base lens curvature
Premium spring hinges and made-in-Italy quality
The 200mm is the approx maximum width that the arms open to with the spring hinges giving a wide fit
How ChromaPop works Through our proprietary ChromaPop lens technology, we help you see detail and color beyond normal capabilities. ChromaPop filters two specific wavelengths of light that cause color confusion. By doing this the lens delivers greater definition, more natural color, and unmatched clarity to allow you to see more detail
LENS CONSTRUCTION TO OPTIMIZE PERFORMANCE
ChromaPop, Techlite glass and Carbonic lens constructions are optimized to provide a variety of optical and impact-resistant benefits. We precisely align the finest polarized filters and finish our lenses with multi-layer mirror, Anti-Reflective (A/R), anti-scratch, and Hydroleophobic lens coatings. The end result is an artfully crafted lens that preserves color perception and delivers optimized optical clarity and precision in all environments.
SMITH POLARIZATION
Sunglass polarization cuts glare. Glare off of horizontal surfaces like snow, water, and asphalt, decreases depth perception, and reduces visual acuity which causes eye fatigue. We precisely align the polarized visual layer inside our lenses to filter out 99.9% of this "visual static" for a finely tuned view of the action.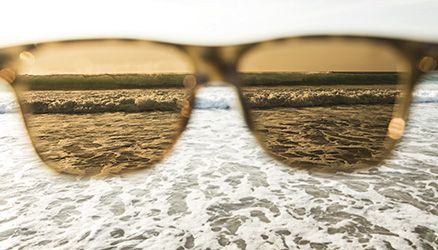 POLARCHROMIC: POLARIZED LENSES WITH PHOTOCHROMIC TECHNOLOGY TO ADAPT TO EVER-CHANGING LIGHT CONDITIONS
With Smith Polarchromic, we combine the glare-free benefits of advanced polarization with UV sensitive, self-tint-adjusting photochromic technology to bring you sunglass lenses that adapt to changing light conditions, so you always have the perfect tint for the amount of light.

WHAT IS CHROMAPOP?
ChromaPop is a proprietary lens technology from Smith that enhances clarity and natural color beyond normal capacity to allow for better visual detail.
WHAT ARE THE BENEFITS OF CHROMAPOP?
ChromaPop lenses make everything appear more vivid and clear, reducing eye strain and fatigue.
HOW DOES CHROMAPOP WORK?
ChromaPop filters two specific wavelengths of light that cause color confusion—specifically, the retina's trouble distinguishing between blue and green and red and green light perception. ChromaPop lenses filter these specific crossovers, allowing for greater definition, natural color, and clarity.
WHO ARE CHROMAPOP LENSES GOOD FOR?
ChromaPop lenses are good for athletes and outdoor enthusiasts. They are especially good for anyone dealing with eye fatigue or trouble with contrast.
WHAT IS THE DIFFERENCE BETWEEN CHROMAPOP AND CHROMAPOP PLUS?
ChromaPop polarized lenses are optically tuned to provide visual comfort and impact protection while also offering anti-reflective, water- and oil-resistant coatings and 100% UV protection.
ChromaPop Plus polarized lenses deliver the same benefits of ChromaPop lenses but offer additional clarity and are as much as 10% lighter than standard ChromaPop lenses.
Product Reviews: Smith Highwater
No Reviews Yet!