CD TAIMER BEGINNER FLYROD PACKAGE 06 SLV
---

Overseas Orders Tax Free Price: $165.21
---
---
Product Description
•••••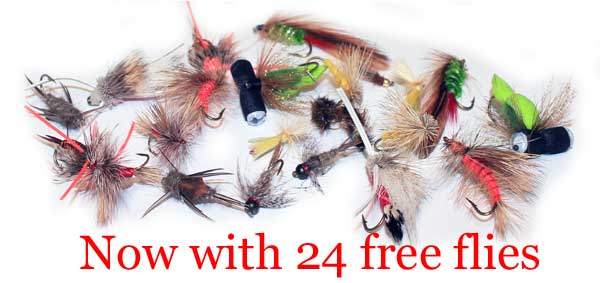 Updated to the New XTCII Fly Rod - a nice med fast action rod in a deep chestnut brown with gold trim - looks really smart. This package is aimed at the new fly fisher wanting a good quality rod & reel package to get you started on your fly fishing journey.

The rod is a 4 piece Taimer XTCII travel rod in #6 or #8 weight and comes with a protective rod tube.

Along with the rod comes a Okuma Airframe Large Arbor Fly Reel and a floating fly line and fly line backing.

The #6 weight is for small streams and rivers, while the #8 weight is suited to large Rivers and lakes.
XTCII Fly Rod $169.99
Airframe Reel $ 49.99
Tube: $ 45.99
Line: $ 29.99
Backing: $ 19.99
Total $315.95

- You Save approx $165.96 buying this as a package - Great Value!
Product Reviews: CD TAIMER BEGINNER FLYROD PACKAGE 06 SLV
No Reviews Yet!