Shop Tools;

Phone Orders;
0800 379 359

Fly Fishing Guides
Click on a region to find a
New Zealand Fly Fishing Guides
Guides you are missing out! List your sites here: add your site add your site
(163 visits in the past month)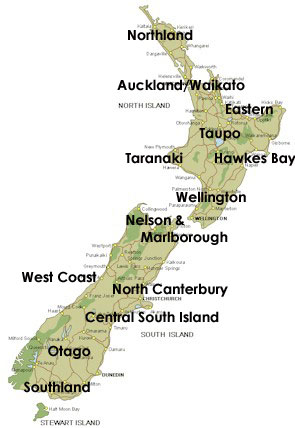 New Zealand Fly Fishing Guides
Listed by region
No Listings
---
offers information on fishing conducted by professional guides in Rotorua New Zealand
---
New Zealand Fly Fishing trips and tours in the North Island of New Zealand. Trout fishing in New Zealand for wild brown and rainbow trout in world class streams and rivers. Single day and multi day fly fishing trips can be taken from Auckland, Rotorua and Taupo

Specialist Fly Fishing Guide New Zealand

, Greg Catley, offers fly fishing for brown and rainbow trout in and around Lake Taupo, New Zealand. Wilderness, backcountry stream and river trout fishing packages available, including transport, fishing, equipment and tuition.
---
Take a boat cruise to the majestic Cape Kidnappers. See the gannets and cliffs from the water or experience the thrill of bottom fishing, saltwater flyfishing and game fishing aboard Out Of The Blue. Or cast a fly to a sighted rainbow trout on one of our local rivers or lakes.
---
No Listings
---
No Listings
---
Pigeon Valley Lodge Guided trout fly fishing tours. Luxurious lodge accommodation in a private, country setting at Pigeon Valley Lodge, Nelson, New Zealand
---
New Zealand spin and fly trout fishing guides West Coast wilderness fishing
Experience exceptional backcountry fishing for brown trout, salmon and kahawai on the beautiful West Coast of New Zealand's South Island with passionate, professional fishing guides
---
No Listings
---
Fly Fishing Guides New Zealand
Guided fly fishing in New Zealand's central South Island with NZPFGA professional fishing guide Al Kircher and many others.
Four Seasons Safaris - Hunting & Fishing New Zealand
Professional Outdoor Guiding Service throughout the South Island of New Zealand, outfitter's of hunting, trout and salmon fly fishing, skiing, and jet boating safaris. All guides have a high degree of experience in the great outdoors of NZ
---
Chris Dore. Fly Fishing Guide. Queenstown, New Zealand. Chris's fly fishing guide service operates around the Southern rivers and lakes of the South Island of New Zealand
---
---
�


Welcome to Flyshop NZ
Trusted - Safe - Secure





© Flyshop NZ 2012