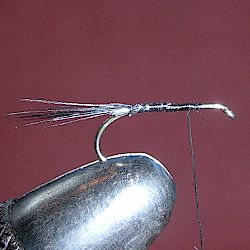 Bind the hook shank and tie in the tail, tail is no more than the length of the length of the top of the hook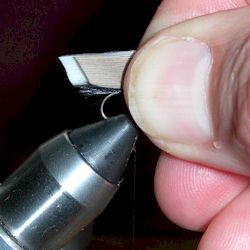 Tie in the wing slips, note we do this before the body to avoid squashing the herl body.
Wing slips being tied in
Lift up the wing slips, spread as desired.
Important: Ostrich Herl has a flat stem which is off set to one side, as shown in the diagram above, have a close look. To get a nice dense, fluffy body shaped as in the picture, tie in the herl, base end first and wind forward. It can be fiddly, but you must wind it so the foot, as in the picture, is to the right of the hackle, otherwise the foot will flatten the hackle and produce an uneven result. (It's a good idea to add glue to the hook shank and base of wings for strength)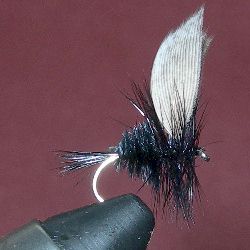 Tie in your hackle and whip finish, glue head.
The finished NZ Black Gnat, one of our top summer time dry flies!! just add water and fish